OMR Sheet Reading Process - Quick View
Addmen OMR software has changed the way OMR (Optical Mark Recognition) works. Today, you do not need an expensive scanning machine neither do you need to spend loads of money on getting the sheets printed. The Addmen OMR software reads and even evaluates (in case of OMR answer sheets) the OMR sheets. Designing, printing and reading the OMR sheets have become quite easy with the help of the OMR sheet reading process.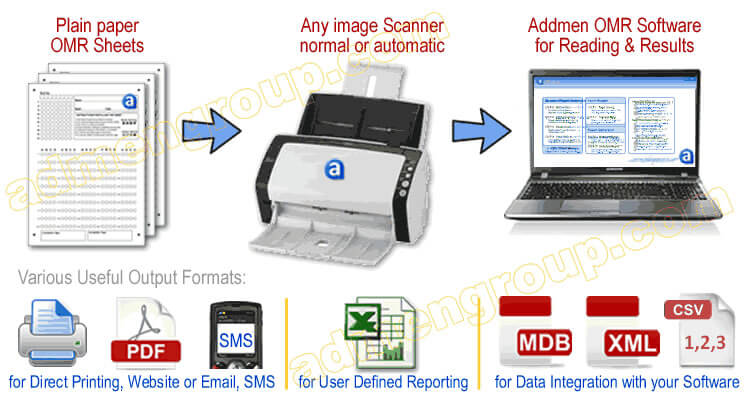 Introduction to OMR Sheet Designing and Printing
The OMR sheet design software makes it possible to design different types of sheets easily.
The designing technology is really simple; you can drag and drop the grids to create answer sheets and forms as you desire.
The sheet designing is followed by getting them printed. This can be done on your own using a normal inkjet printer.
The OMR software reads the scanned images of the OMR sheets. So, the thickness of the paper does not matter here. As normal printing papers can be used for printing the OMR sheets, you can print the sheets with your own printer.
As printing sheets are available at minimal cost, you really save money on printing the sheets.
The OMR sheets can also be printed using an offset printer if you need the sheets in bulk.
Introduction to OMR Sheet Scanning
The importance of scanning OMR sheets was quite high during the earlier days. It was the scanning machine that scanned and read the sheets.
Today, the OMR software reads the images of the OMR sheets that are scanned earlier. Hence, the type of scanner used does not have any effect on the working of the OMR software. So any regular scanner can be used.
You can use a flatbed scanner (where the sheets have to be scanned one at a time) if you do not have to scan too many sheets at a time. However, if you have to scan many OMR sheets on a regular basis, an ADF (Automatic Document Feeder) scanner has to be used.
The type of scanner you choose would largely depend on your budget as well as the speed you have to get the sheets scanned and read.
Addmen OMR Sheet Reading Software Process Overview
Introduction to Addmen OMR-OCR-ICR Software Solution